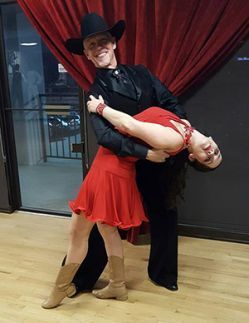 What inspired you to become a dancer?
One night in a club watching my good friend Richard Ware (very accomplished West Coast Swing dancer). He danced with more women than I could count. I could only watch.
What is your favorite thing about teaching?
Seeing a large group of people "get" a pattern I am teaching. I really get a big kick out of that.
Do you have a mantra you live by or a favorite motto?
What goes around comes around (karma, you know).
Who is the most inspiring person you know?
My good friend Jose Mejia. He is an AC-heating repairman and expert handyman who along with his beautiful wife, is raising three beautiful kids. He lives in a modest house but routinely goes, with a church group, to other cities for several days and donates his time repairing homes for needy people.
If you could travel anywhere in the world, where would you go and why?
Mt. Everest/Himalaya mountains. The mountains in Colorado greatly impress me. I cannot imagine those at twice their height.
What is your favorite thing to do on your day off?
Catch up on PBS programs (nerdy, I know).
What is on your grocery list?
Salad fixin.
What is your favorite T.V. show to binge watch?
NOVA (haha).
What are two things not many people know about you?
I used to teach High School Chemistry and I almost got a private pilot's license.
Where did you grow up?
Irving, Texas.
What is your secret talent?
Pretty good at cooking.
What is your guilty pleasure?
Cheesecake.
What is your weirdest habit?
I honestly can't think of one.
What celebrity embodies your inner rockstar?
Jimmy Kimmel. I think he is terribly funny and I like to make people laugh though I'm not nearly so good at it.
What is your go-to sing-in-the-shower song?
Waltzing Matilda (google it).
What is your favorite food/restaurant?
Brazilian Steakhouse (ideal combo of high-end salad bar and carnivorous delights).
What's on your bedside table?
Different books as I read every night before I go to sleep.
What did you want to be when you grew up?
My first recollection of wanting to be something specific was a Marine Biologist. However, there weren't many oceans near where I grew up.
One word people use to describe you?
Patient (however, it's running out).
What never fails to get you out of a bad mood?
Pachelbel Canon in D (google that one too).
What are the top three things on your bucket list?
1. See the pyramids at Giza.
2. Go on a long cruise (like maybe to Australia).
3. Dance with Enio Cordoba. Oh wait, I did that.
What is the best advice you ever received?
My first year as a teacher I was out sick frequently (most likely due to anxiety, LOL). A fellow teacher/coach who had to substitute for me told me I needed to do the following: "Show up every day, on time, even when you're sick (within reason), and do your job". I was out very rarely the rest of my teaching career and was the better for it.
Jim offers group classes on Mondays and Thursdays.  Check out our Class Calendar for more details.   He is also available for private lessons, please submit a Private Lesson Request From or contact the studio at (972) 490-0022 for more details.