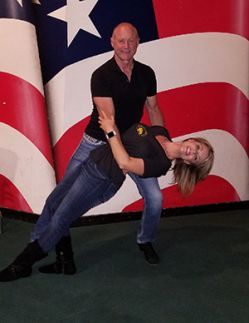 What inspired you to become a dancer?
I had a musical background that started with band in the 6th grade. I was successful in that as I had great teachers. As an adult, I enjoyed dancing but had no training. It was an extension of musical expression that was very emotional for me.
What is your favorite thing about teaching?
Being part of the experience when someone learns to do something that they didn't previously think they could do.
Do you have a mantra you live by or a favorite motto?
It's not what you have that matters the most; but what you do with it sure does.
Who is the most inspiring person you know?
Easy. My wife.
If you could travel anywhere in the world, where would you go and why?
I know this is more than the question is asking; but I would like to see the oldest and most romantic places in the world. Egypt, Paris, Italy, and finally Israel.
What is your favorite thing to do on your day off?
Reflect: at a beautiful restaurant setting, at a movie, with my wife.
What is on your grocery list?
Tenderloin, asparagus, broccoli, skinless boneless chicken, chocolate, pounds of flavored coffee.
What is your favorite T.V. show to binge watch?
Law and Order.
What are two things not many people know about you?
I qualified at the state level to compete for the USA Tae Kwon Do Team. I have an accounting degree from SMU while on scholarship.
Where did you grow up?
Lake Highlands area in Dallas.
What is your secret talent?
Playing the saxophone.
What is your guilty pleasure?
Sugar, sugar, more sugar.
What is your weirdest habit?
I am so OCD that I will count stairs as I walk. Often I will walk evenly on different stones or boards in wooden floors.
What celebrity embodies your inner rockstar?
Robin Williams.
What is your go-to sing-in-the-shower song?
I Can Only Imagine.
What is your favorite food/restaurant?
STEAK, Fogo de Chao.
What's on your bedside table?
A reminder telling me my wife loves me more than she loves the dogs.
What did you want to be when you grew up?
A lawyer.
One word people use to describe you?
Active.
What never fails to get you out of a bad mood?
My wife reminding me of something my dad would tell me: "I judge the size of a man by the size of the thing that makes him mad."
What are the top three things on your bucket list?
1. New York.
2. European trip.
3. See the Northern Lights.
What is the best advice you ever received?
Forgiveness is for you, not the one you are forgiving. We call that being free.
Wes offers group classes on Mondays, Wednesdays, Thursdays, and Saturdays.  Check out our Class Calendar for more details.   He is also available for private lessons, please submit a Private Lesson Request From or contact the studio at (972) 490-0022 for more details.